HOW WE DO OUR ELECTIONS AND ELECTION RESULTS BELOW
We have periodic elections and votes in our new school because we want all students to have a voice in how things are done. Keep in mind though that the point is to make decisions and not merely choose people. We are not a student council. Student councils generally teach people the political process yet generally do not give the students various roles. But they do generally make homecoming parties, send complaints, and just campaign. We do not do any of that. See the reasons?
1. We are an secular, character building, and apolitical organization. Because we have people of all or no political opinions. But we strongly believe in working together in a spirit of cooperation in trying to help others, volunteer,and make a new school! Because in many situations one size does not fit all but working together and good does
2. We do a lot; students decide the policy in the school while adults guide, direct,and correct.
3. We do elections for Vice-President and President of the School of Unity and Connectness. And these elections actually give real authority in the School of Unity and Connectness. Though the extent of activity in the School depends on the person.
4. Our votes are MORE convenient because an explanation is given in each ballot explaining why the vote is going on and what each position/person represent. And a decision is approved by 60% of the votes or by the machine counter on Opavote
5. And the process of monitoring the elections is simple yet effective;
Elections about Vice-President and decisions are managed by the President (though if he chooses to; the election can be managed by someone else) The President CAN vote in this election but ONLY ONCE and the candidates CANNOT VOTE in their own election. If any suspicion should exist about how the President monitors the election; then somebody else who is trustworthy can.
Elections about the President CANNOT be managed by the incumbent President. So instead somebody else will be given the link. The incumbent (the already President) cannot vote in that election.
6. But we strongly believe in fairer and equal participation in our online school and unincorporated but formal organization. We do votes that use Opavote for their encryption,fairness, and reliability. See this link: HERE
That is why we frequently make our votes to decide things or to see when a person should take turns or not. We will post the results here:
Date vote finished: March 4-5 2019: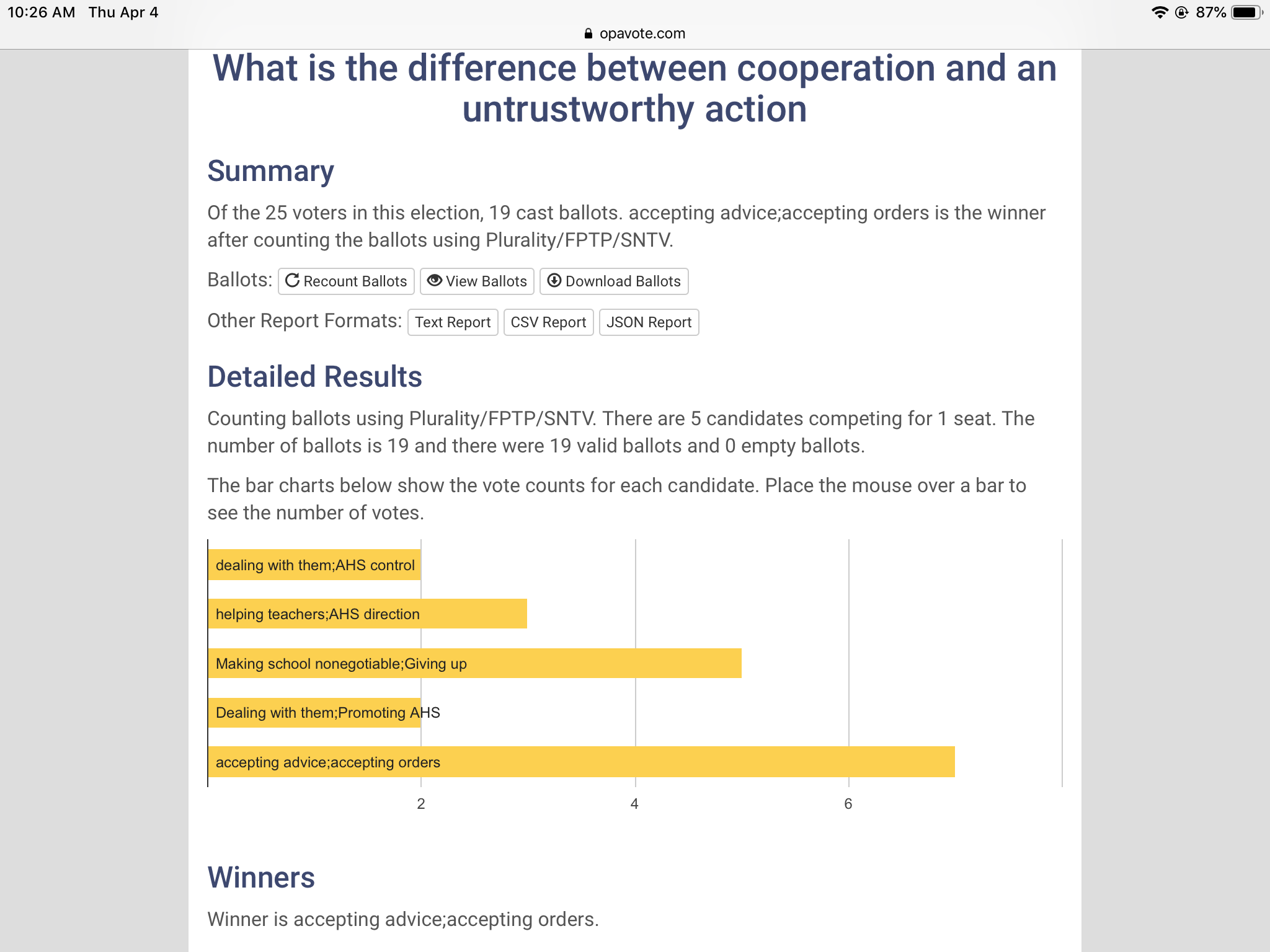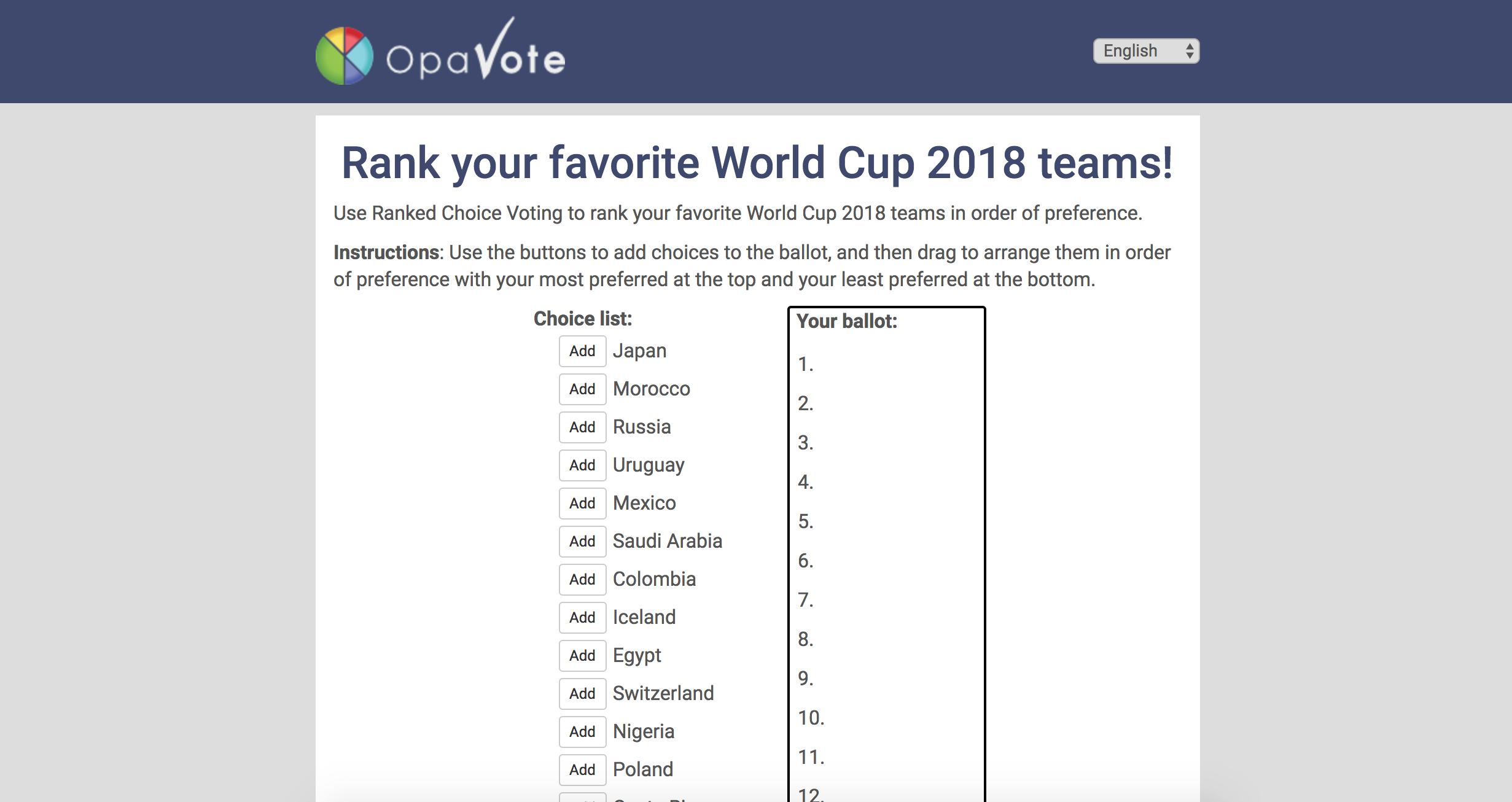 On May 15th 2019;
The School of Unity and Connectness did a vice-presidential election.
And Carson Arrington is VICE-PRESIDENT
William Arrington Cole is ADVISER

But the extent of activities depend on the person.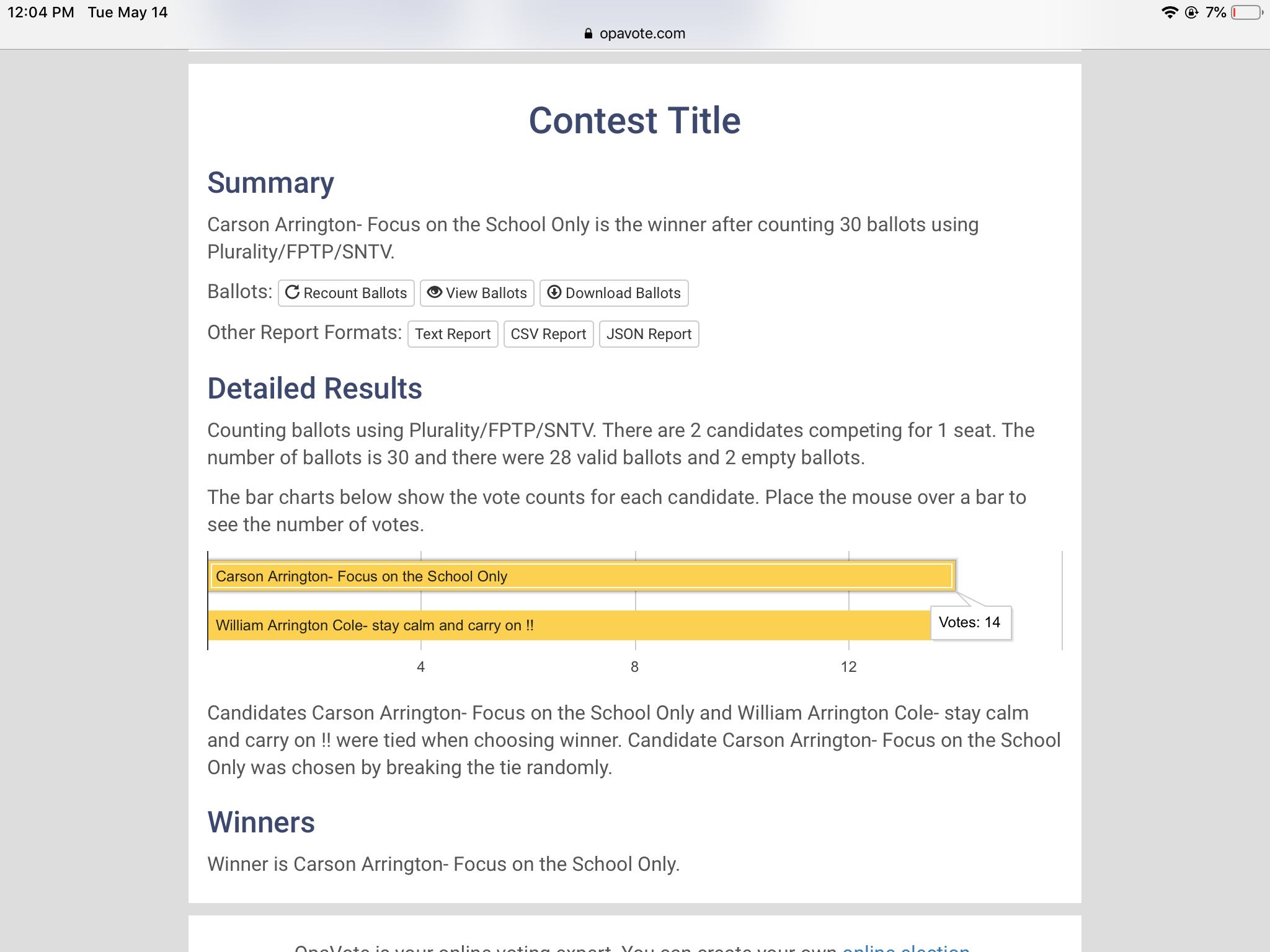 FOR TRANSPARENCY: HERE WAS THE BALLOT COUNT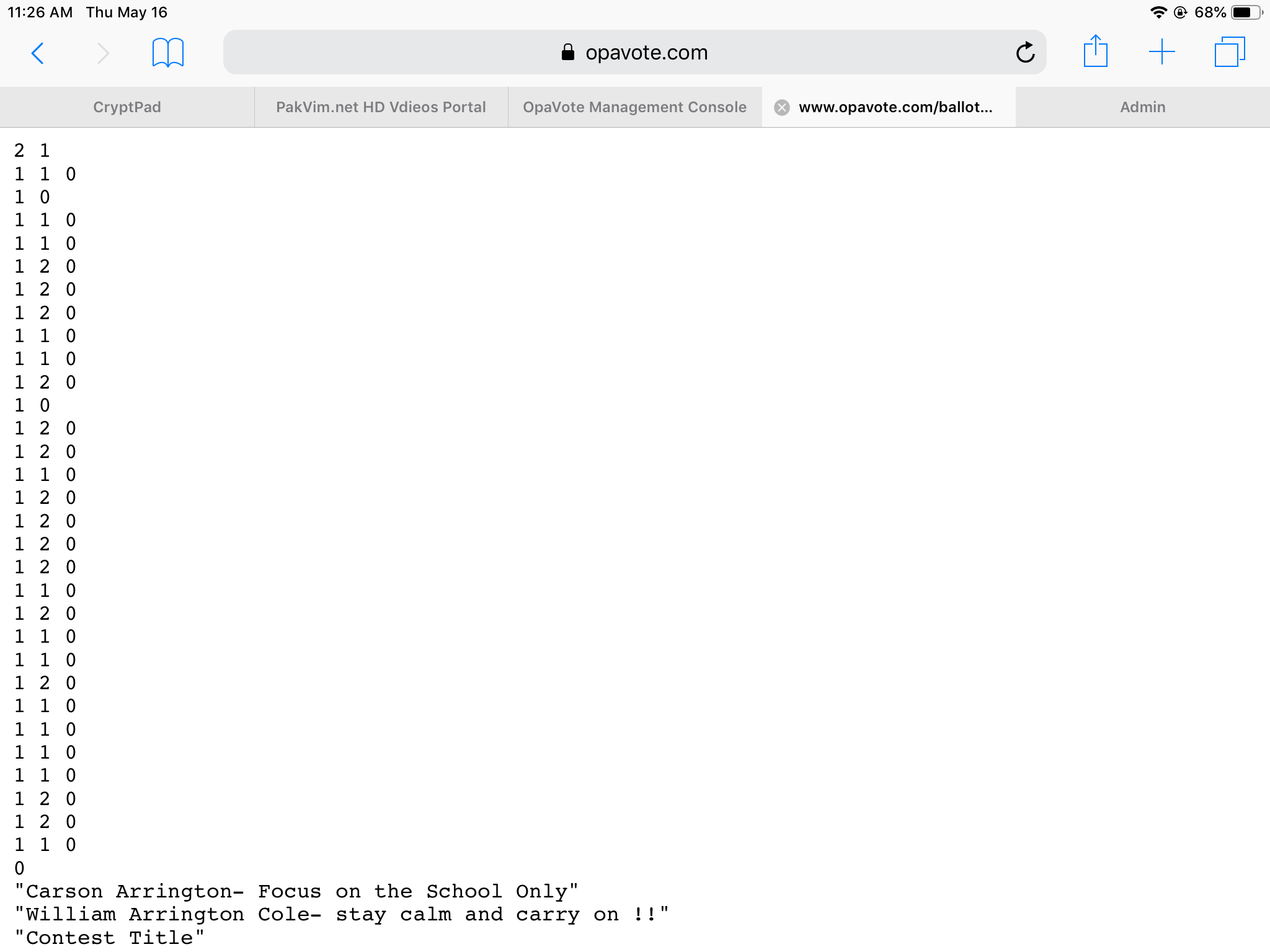 Ballot looked like this: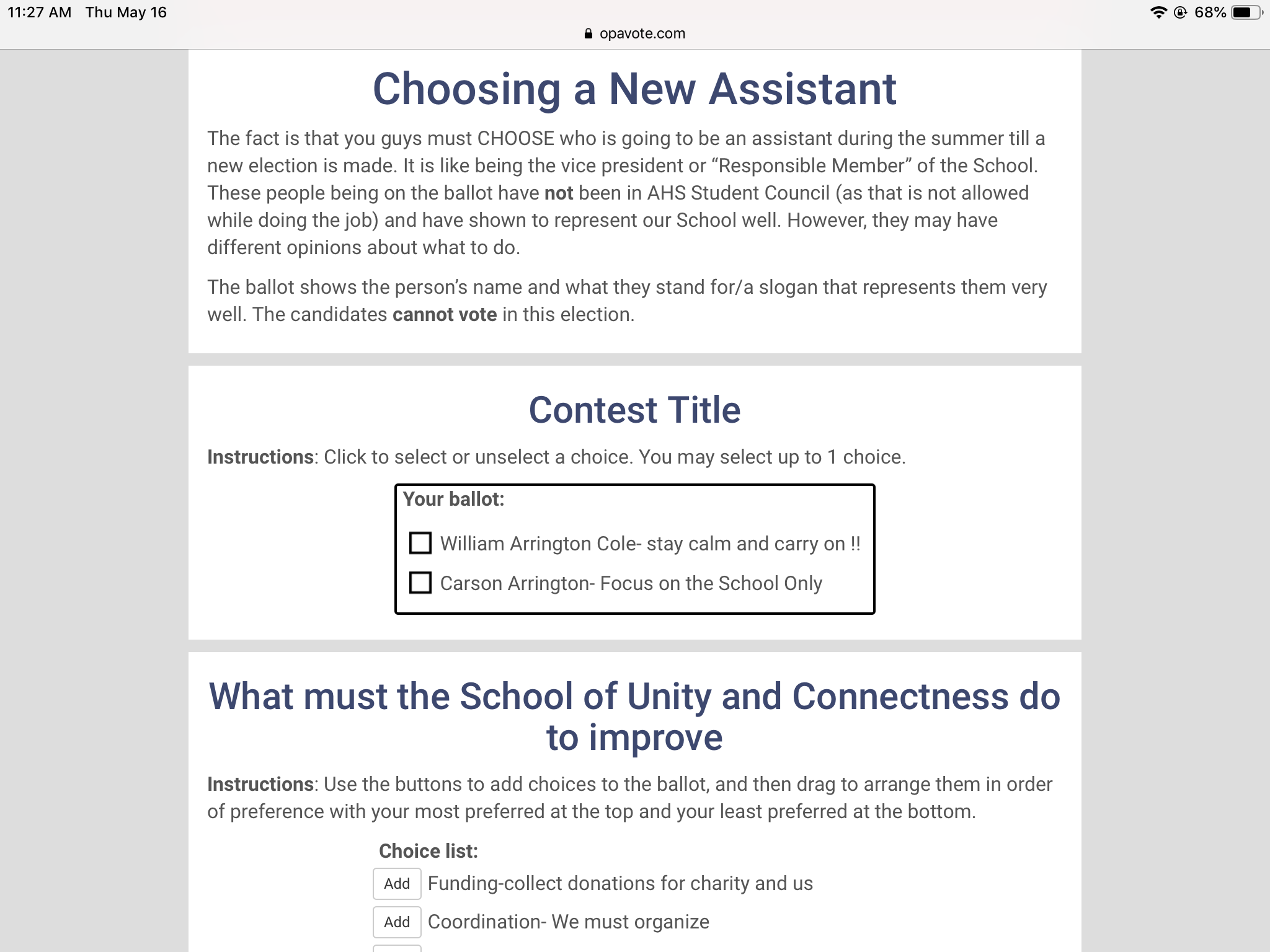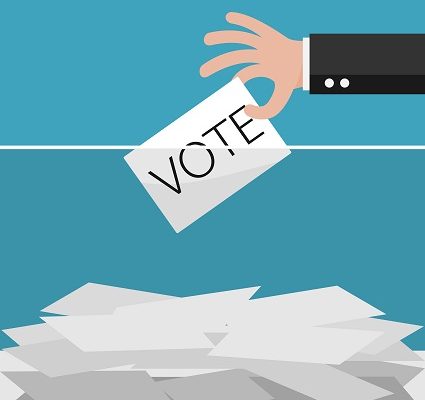 An vote (or plebiscite) was also conducted at the same time as the Vice-Presidential Election to see what options can be improved in our organization. Keep in mind that our organization will do ALL of the options mentioned in the plebsite (from Transparency to Access to Funding to Promotion to Coordination and Freedom from AHS control along with more freedoms/opportunities) but give importance to the two chosen.
PUBLIC RELATIONS
FREEDOM FROM AHS CONTROL AND MORE OPPORTUNITIES/FREEDOMS FOR ORGANIZATIONAL MEMBERS.
(BETTER COORDINATION WAS IN THIRD PLACE.)
CHOSEN USING SCOTTISH STV
(A rank vote method that races each option till one or two options wins see What is SCOTTISH STV for your information
AS TO GIVE TRANSPARENCY HERE ARE ALL THE IMAGES OF THE MAY 15th Plebscite and Vice-Presidential Election: